Nominations for the Bristol Paint Volunteer of the Year award are still open. To nominate a volunteer to be featured as our Volunteer of the Month from your affiliate click here. 
Every club has them. The doers, the heartbeat, the brains of the operation. At Balmain Touch in Sydney's inner west this individual is Sharlene Wong.  Sharlene plays an instrumental role in the delivery and operations of the competition. From setting up and managing Mysideline, to the day-to-day logistics of running the senior social competition. As if this was not enough Shar also organises the club's representative teams, processes the uniform orders and juggles the accommodation logistics for travelling teams.  
By now we have established Shar wears many hats and like many volunteers does all this work without fuss quietly in the background. In more recent times she has been instrumental in the merger of the Junior and Senior Balmain Touch organisations and now holds a key leadership position on the Committee at the club. 
As our Bristol Volunteer of the Month we speak to Shar about her journey and the remarkable role she performs in her local community. 
Congratulations Sharlene, can you begin by telling us a little bit about your Touch Football journey?
I was quite the late bloomer when it came to my touch career, I was in my 20s and started as most people do, playing socially to get together with friends. It did not take long for my love of the game to takeover though and I realised the potential the game can deliver to people, no matter their age or skill set. 
What is it about Touch Football that lured you into the sport and drives your passion?
Initially it was the exercise and social aspects of coming together with friends and playing against like-minded people. With time I just fell in love with the sport, the different options that it gives, to play mixed or women's is completely up to the individual.  Or if you are like me and love the sport you play both! The ability to become involved more heavily with clubs and represent your club at a higher level is also an option for everyone that plays. 
Currently though my biggest passion lies with coaching the juniors at Balmain and this is the best step I have taken so far in my touch career. I have a deep care for the game and I want to continue to grow the sport, keep encouraging more people to come and play and make sure that any new people to the sport have an avenue to come and try. I want to share my love of the sport with others, keep growing the great community embedded in touch and continue to meet and befriend people. 
You wear many admin hats as well, running the senior comp, organising rep teams, uniform orders & coaching juniors, which role do you love the most?
Whilst I love playing the game it is the enjoyment I see others get from touch that resonates most with me. Coaching has been and continues to be a highlight of my career not only at Balmain but amongst anything I have done in touch. I currently work in IT outside of touch which is why I have driven the club to use Mysideline and the registering of teams/competitions. At times, I have taken on too many responsibilities as I want to be across all that is happening all the time. With time this has started to even out and I've narrowed down my passion to coaching and helping others get involved. 
You played a huge role in merging the junior and senior competitions at Balmain, what has been the biggest challenge since doing so?
It just made sense to merge the clubs together. The merge went smoothly with everyone from both the juniors and seniors on board to bring the clubs together which made for a relatively seamless process. It was a collective effort to get the merge complete, no one person was the reason for its success, the motion had the backing of all parties. 
The current challenge is to give both entities the same amount of time and care. The junior side of the club has the added layer of parents and therefore is constantly front of mind and being driven forward. The upkeep of the senior's competition is where the biggest challenge now lies after the combining of the clubs. Increasing participation within our senior social competition is where we have now turned our attention to, as well as providing a pathway for our juniors to seamlessly play as they get older. 
You mentioned you recently moved into coaching; how does this compare to playing?
I was encouraged by the junior club and a lot of my touch friends to try coaching and the amount of fun I had with the kids has made me continue that journey.   
It provided me insight into the junior competition and I saw the number of talented kids we have at the club and just had to become involved. I started coaching juniors three years ago and found it both challenging and fun as well as super rewarding to be able to pass on my knowledge and lead future stars of the game.  
I love the sport and coaching has provided me the means to give back to the community that has given so much to me. I love seeing the young talent coming through Balmain Touch and making sure that they are mentored correctly and get the most out of the game, whatever their passion.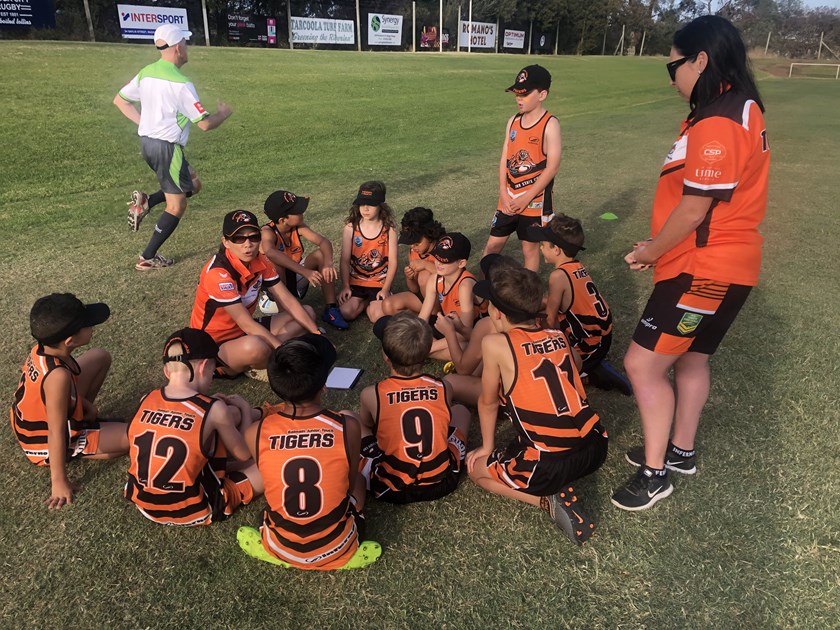 How did you enter the scene of representative touch?
My introduction to representative touch wasn't until 2005 when I was twenty-seven and I can thank our then club president, Paul Robinson for that. After trying to get teams together I was asked to join the mixed team and so began my representative touch career. It was a brutal few years though, with the team only reaching the final after 4 years and unfortunately falling at this last hurdle. After this setback I controversially joined Norths Touch and as luck would have it won 3 NSW State Cups in a row upon making the move. It is here I truly learnt about the game of touch, the intricacies of the sport and the strategy behind how to play the game.  
Which shows, if the team was able to win 3 state cups in a row – not something every side can go on to do!
After the triumphs of 3 State Cups, we failed at our 4th attempt, so I took a short break away from rep touch but couldn't stay away for too long and returned to my home club, Balmain. The club was forming a mixed senior team and I assisted with a couple other Balmainians to bring in players from our social competition to form a team. I am pleased to say we selected quite well as we made the grand final on 3 consecutive occasions, unfortunately losing each time. Pleasingly, the team was victorious on our 4th attempt however it was bittersweet as I was unable to play due to knee surgery but was able to enjoy the victory from the sideline in my role as team manager. 
What is your favourite touch footy memories?
Ah that is one I'll need to think about … it would have to be my first victory at NSW State Cup with Norths. Whilst not with my beloved Balmain the victory was a turning point in my career with learnings of the skills and strategy needed to be successful in touch football and to give me the confidence that it was an achievable goal. 
What do you believe has been the biggest improvement or advancement in the sport from your perspective?
The accessibility of the game has improved and increased dramatically in the past 10 years. More and more people can play the sport. No matter where you are based there's a competition being run that you can get to. On top of this there's no real skill needed to begin playing touch – it can all be learnt as you go and more importantly you can start at any age. Touch Football isn't a sport that has to be engrained in someone from a young age, you can pick it up at any point in life and reap the benefits.  
Great Points! What is next for Sharlene Wong and Balmain Touch?
I am still playing regularly at both local and state level and was even able to feature in the recent Inferno National Touch League with the Sydney Scorpions.  
Creeping thoughts of retirement are on the cards in the coming years (I say this every year) but that would only be from a playing perspective not coaching that passion will not waiver anytime soon. The U10 boys was an eye-opening experience for me with no kids of my own and gave me confidence that I could work with people of all ages.  
As a reward for this year's Junior State Cup coaching the U16Gs, my assistant Akapon Sae-Lieo and I won Coaches of the Year at Balmain.  It was most flattering and gratifying to be given such an honour.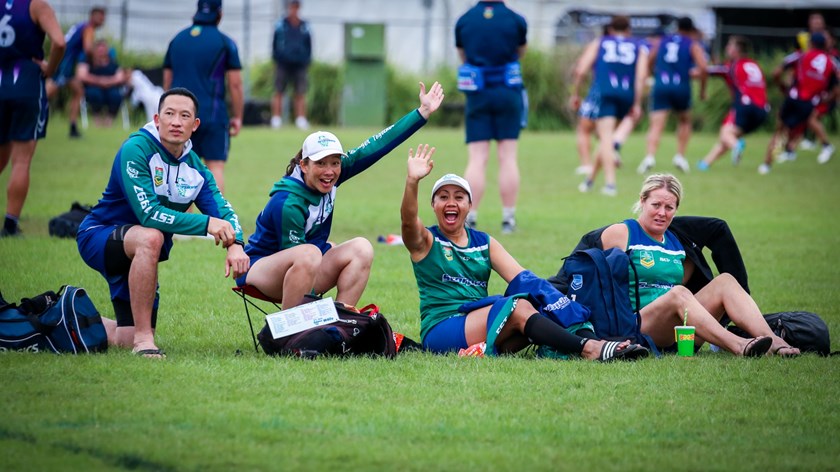 Finally, if you were to win the Bristol Paint Volunteer of the Year award and $15,000 worth of prizes towards a home or club renovation – what project comes to mind?
The Balmain Touch Club house is currently getting renovated, so I would put this prize towards this.
As our volunteer of the Month, Sharlene is now eligible for the Bristol Paint TFA Volunteer of the Year (VOY) Award. The TFA VOY will receive paint and labour to the value of $15,000 for the refurbishment project of their choice, thanks to our friends at Bristol Paints.