Nominations for the Bristol Paint Volunteer of the Year award are still open. To nominate a volunteer to be featured as our Volunteer of the Month from your affiliate click here. 
Rebecca Jackson is the epitome of a community volunteer. A busy public health Project Officer by day chances are if she's not at work encouraging young people to live fit and healthy lives, she can be found at the Touch fields three nights a week and Sunday afternoons doing exactly the same thing in her personal time.
As President of Newcastle City Touch, Becc has a passion for educating young people and seeing them thrive. It's what drives her both professionally and personally.
She also has a deep love for Touch Football, her club and the people that call it home. In her "spare" time, Becc is also a volunteer lifesaver at Cooks Hill Surf Lifesaving Club.
As our Bristol Paint Volunteer of the Month, we get to know Becc and find out what motivated her to become involved, her journey and discover her fondest Touch Football memories.
Congratulations Becc, can you tell us how you became involved in Touch Football?
Thank you, I've played socially in the Hunter region since I was at school and my husband has always played so I guess the sport has always been around me from a young age. However, I got interested in playing at higher levels much later in life, making my first representative team at age thirty-two and absolutely loved it. The experience, the competition, and the trips away it's all so much fun.
I became a lot more involved after my boys started playing. I was teaching at the time and the school I was at, entered nine teams into the local competition which my boys were a part of. This started me on my administration journey, the next year I joined the junior committee and have been involved ever since.
Involved seems like an understatement! Can you tell us about the growth of the junior competition at Newcastle City Touch?
Yeah sure, I think the first year that our school entered teams there were 24 teams in the entire competition. Last year, despite all the covid and weather-related issues we had 103 junior teams which is our highest on record. Our senior competition has also grown to over 100 teams over that time.
That's a reflection on all of our committee members who work tirelessly year on year.
That's an amazing result, well done. Can you tell us what a regular week looks like for you?
When we have both juniors and seniors in full swing, an average week for me involves being at the fields three nights a week and Sunday rep training. It's always varied but my main roles include; advertising competitions, planning registrations, fixtures and results (with help from my amazing registrar Grant), setting up the fields, organising referees, opening and running the canteen (with help from the awesome committee members and their families).
The most rewarding parts for me though are walking around the fields, smiling, encouraging kids, and welcoming new families.
In addition to running the social competition for both juniors and seniors I also co-ordinate representative touch and have recently become a manager for the Hunter Western Hornets All-Abilities teams which is so gratifying.
I have been the assistant coach and now manage our 18s and 20's girls teams and play in Ladies 40's, so I'm down at the club on Sunday's during rep season and I love it.
My husband plays and coaches both junior and senior rep teams. My youngest son plays social and rep and my oldest son plays social, rep and he referees. So it really is our second home.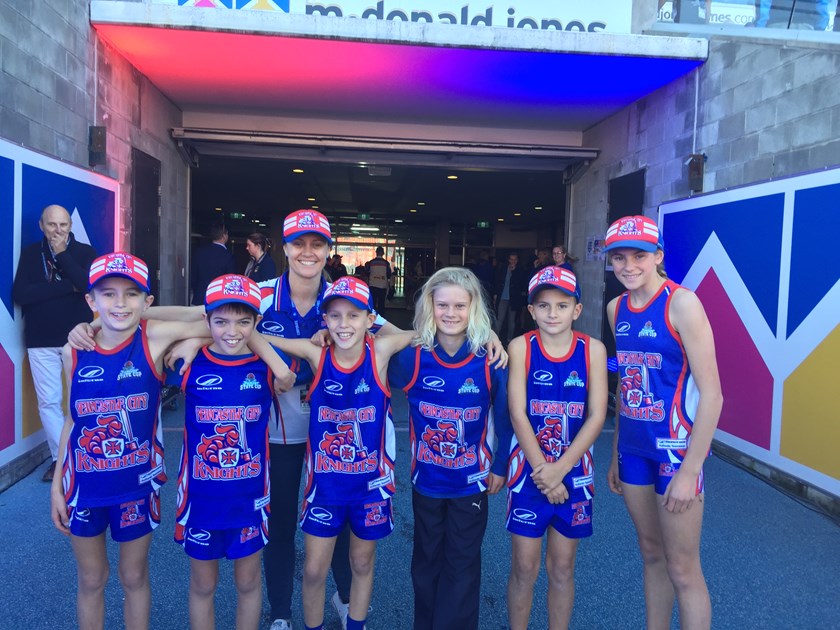 What's great about Newcastle City Touch that inspires you to keep coming back and giving so much of your time?
The sense of community. I love seeing all the families and players that have been involved over many years. More recently our opens players, and even some of our older junior players, have been giving back to our juniors through coaching and running our all-abilities program which is amazing to see and builds on our culture. It's just a happy and fun environment to be in.
The above sums up what I love about the sport. I wish I could have started younger in life. My boys love the sport and the friendships they have gained.
I love how every family member can be involved at any stage of life. I love the opportunities that are available through the sport's pathways, the mental and physical benefits that the sport provides. There isn't much not to love about Touch Football in my opinion.
We agree with you there! Out of all your roles what is your favourite Touch Football memory?
Oooh that's a tough question, there's been so many.
I guess from a playing perspective it would be representing the Hunter Western Hornets in the Women's 40s division at my first Inferno National Touch League.
Off the field I'm proud of the growth and strength of the junior competition during my tenure as president. Equally, coaching the young girls coming through our club and seeing them grow with confidence and improve as players and people is extremely rewarding.
I also love being a manager for the Hornets All-Abilities teams at NTL and seeing the joy that they exude from just being a part of the event. Our Hornets tier 1 team played the Grand Final this year, going down by 1 in extra time. This game and the experience were most gratifying. The support and inclusion from the players, families, Hornets, TFA and the whole touch football community is exceptional. A once in a lifetime experience for these amazing athletes.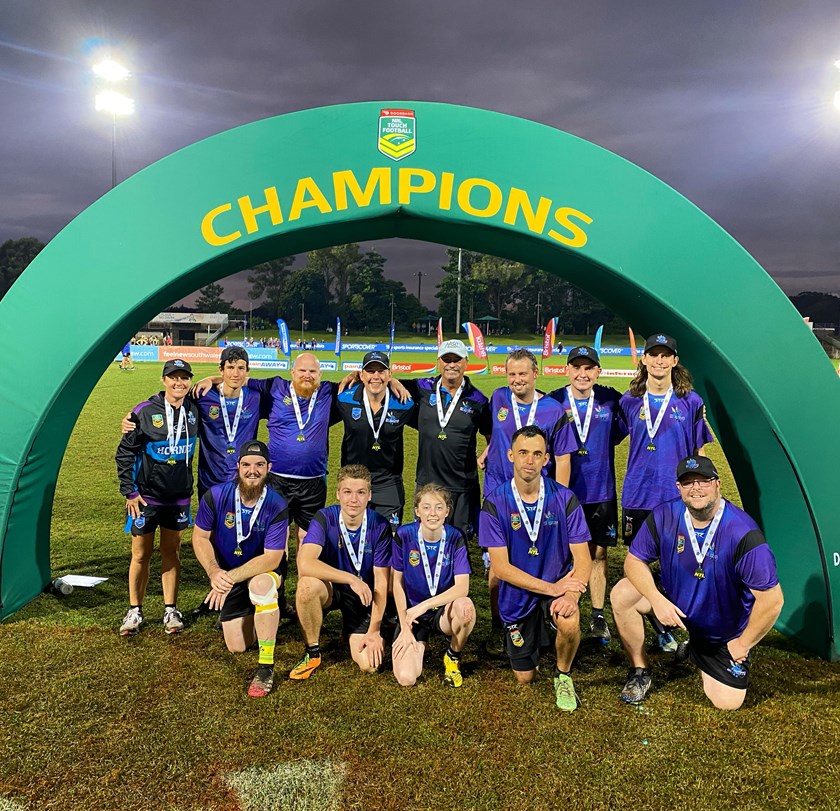 In your opinion what's been the biggest improvement or advancement in the sport over the last few years Becc?
I think the increased profile of the game has helped us at club level immensely. The additional awareness results in local registrations which is fantastic to see.
And the challenges?
I wish I had more time as we have some grand plans for further growth and recruiting more volunteers that sometimes get put on the backburner which I'm sure many clubs face as an issue.
We actually have our AGM in a couple of weeks so if anyone would like to join our club, you're more than welcome and you'll be very rewarded!
Finally, If you were to Win the Bristol Paint Volunteer of the Year award and $15,000 worth of prizes towards a home or club renovation – what projects come to mind.
If I was lucky to win the Volunteer of the Year I'd use the prize to continue our clubhouse upgrades. We have been gradually upgrading our facilities recently but we have more to come including the installation of shade shelters to protect members so this prize would come in very handy for this.