Switch is a VicHealth program that started in 2017 with the initial objective of getting women moving and having fun whilst playing touch football.
Switch is excited to share that 2 Switch coaches have been selected to play in the Victorian State team. This team will compete in Touch Football Australia's largest national event in Coffs Harbour.
Mel took some time to talk about her journey from participating in touch to becoming a Switch coach which supported her pathway to playing at a national event.
If you want to learn more about how to become a coach, click here.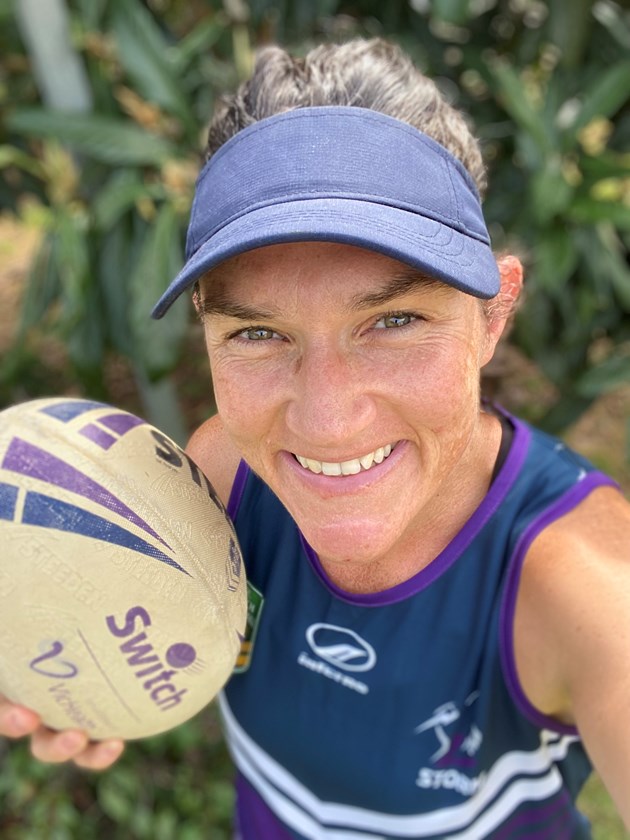 How did you get involved in Touch Football?
I was first introduced to touch by a group of friends who just said to come along! I was lucky to be living in Ballarat at the time and was able to join a team in their local league and keep learning cause I really loved it!
Why did you become a deliverer for Switch?
I was living in Warrnambool and the local league was really looking for ways to attract and retain female participants. I was involved as an ambassador with This Girl Can VIC and this creates the perfect opportunity to help Ella launch SWITCH on a super muddy field!
What is the thing that makes you keep delivering Switch?
Watching ladies trying something new and making plenty of mistakes in a safe place until they get it and the confidence that brings!
Did becoming a coach impact playing the game?
Yes! It has enabled me to break things down and understand what is really happening in attack and defence and craft my 1%ers!
What doors were open for you as a coach or player being involved in Switch?
It helped me connect with others, I've made friends that have gone beyond the field.  When moving back to Melbourne I was able to be involved with SWITCH at PPT, which helped me also join a team and get to know some people. 
Being able to improve my 1%er skills has made me a better player overall which has helped me grow as a player and continue to learn and improve to be able to play at Nationals for the third time in the beginning of May.
How was being a mother impacted you on your touch football journey?
Well it was a combination of moving to rural Victoria and having a baby that put a pause on playing.  As my children started to get a little older, a new competition was being launched and I was excited to be able to join!  Not only did I play but I got involved in the committee and that lead to being able to not only run SWITCH but also create a juniors program. Watching my girls start to learn a game that I didn't start until I was 22 was exciting! It made me super proud when my eldest daughter ran the mini juniors session teaching the kids the different drills, crabs on the line, a real favourite! Building in my girls the belief that you don't have to be the best of the field, you just have to show up and do your best. That is what counts (and lots of practice if you want to get better!)
Who has supported you along the way?
My family. I would not be able to do it without their support.
Also Ella has been amazing, I continue to learn and be inspired by her both on and off the field.
Commie and Fish - for the countless lessons and opportunities you have given me.
There are two many to name individually but all my VIC Storm sisters - wow! What an amazingly talent, strong beautiful women - you have taught me so much, I feel so honoured to train alongside you all. You have all supported me to build the belief in myself and my capabilities.
Also to coach Gaz, I've never been in a place before where I've been coached but your endless patience and clarity to be able to break things down for me to understand has changed me as a player.
I also would like to shout out to my Roomie - Anna, I just love that she gets me and I love how we work together to unpack and understand all our learnings, practice, talk a lot, unpack it more and have developed a solid foundation that is allowing us to both constantly improve!
Now that you have made it into the Victorian State team what are you hoping to achieve from it?
To be my best. To show up, believing in my skills and capabilities to give my best to the team each time I have the privilege to step on and off the field.
What has been a challenge that you have had to over come?
Probably a lack of belief in my skills, abilities and capabilities.  I have allowed self doubt to creep in, classic impostor syndrome. So challenging my mindset so that I can show up as my best for the team.
What would your advice be to your younger self?
Always have a go. You are more capable than you believe you are. You can do it. 
Would you like to thank any one?
Thankyou to my family, Ella, Commie, Fish and all my VIC Storm sisters and Gaz. 
Thankyou Tarryn for always taking an interest and supporting Touch Victoria and SWITCH allowing these pathways for women to learn and keep involved in such a wonderful sport.
 If you want to start your coaching journey with Switch, find out how by clicking this link.