Two sunny weekends in March welcomed TFVs first Calendar events, the Senior and Junior State cups. The 2022 Indomie TFV State cups saw a total of 52 teams compete across 14 different divisions. The Senior State cup took place at Ashwood/Jingella reserve, the home of the Harlequins Touch Association, while the Junior State Cup was hosted by the Ballarat Touch Association at Russell Square. We would like to thank both associations as each of the locations provided high quality facilities and an overall great day for Victorian touch football. 
We would like to shout out all the referees who contributed throughout the two days as for without them, neither event would not have been possible. 
SENIOR STATE CUP: 
It was a tight contest in the Mixed Competitive Final with Monash Touch defeating the hosts, the Harlequins, in drop offs. Monash Touch would then continue their winning streak by comfortably taking out the Men's Competitive Division. 
Next up was the Women's Competitive division final, where the Fawkner Park Ferals defeated the Harlequins. The Women's Social Division then saw the B'ratz better half win over Straight Outta Vic. 
Inferno went on to win the Men's Social Division Final, defeating the Raptors/OnesEnuff. Inferno would then continue to their dominance in the social divisions by having both of their social mixed teams facing off in the Mixed Social Division Final.  
RESULTS: 
Men's Competitive Final: Monash Blue (5) Defeated Harlequins Maroon (1) 
Men's Social Final: Inferno (4) Defeated Raptors/OnesEnuff (2) 
Women's Competitive Final: Fawkner Park Ferals (4) defeated Harlequin Women's (0) 
Women's Social Final: B'ratz better half (2) Defeated Straight Outta Vic (1) 
Mixed Competitive Final: Monash Touch (4) Defeated Harlequin Mixed (3) 
Mixed Social Final: Inferno Orange (6) Defeated Inferno Black (5)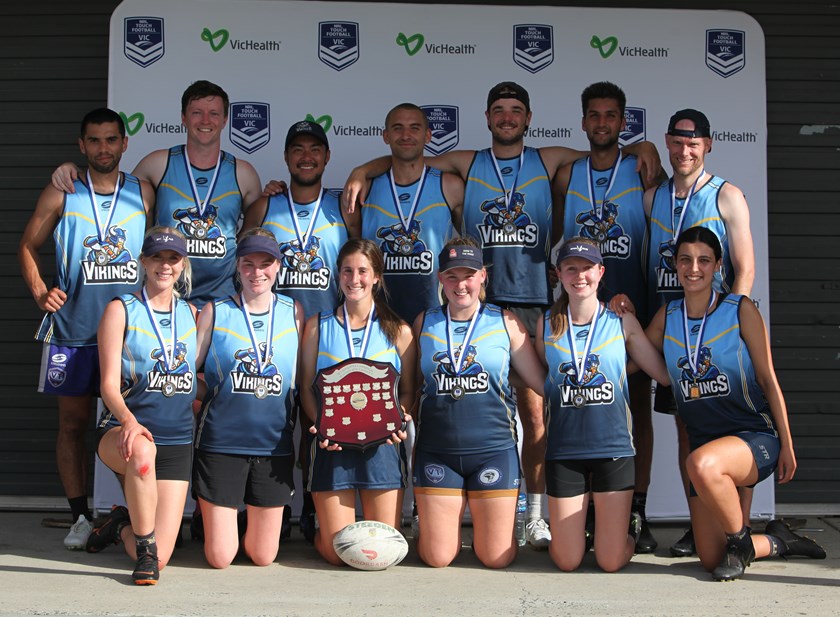 JUNIOR STATE CUP: 
Moorabbin kicked off the finals for the 2022 Junior State cup, winning against Galaxy to take out the u16 Girls Division.  
Next up was the u14 Girl's final, which saw the Harlequins Maroon defeat Outkast Sports Melbourne. In the same timeslot, the Harlequins and Galaxy faced off in the u12 Boys finals. Galaxy were the eventual winners.  
Geelong Touch were crowned the champions of both the u18s & u14s Boys divisions after defeating the Harlequins and Galaxy South.  
The u12 Girl's finals saw the Harlequins defeating the hosts 4-1. The Harlequins would then go on to qualify for their 5th final of the day in the u18 Girls division. This match saw the Harlequins beating out Melbourne University Touch Football to be crowned winners of the division. To finish the day, the Melburners would go on to defeat the hosts in the u16 Boys final. 
RESULTS: 
Under 12 Boys Final: Galaxy (9) Defeated Harlequins (0) 
Under 12 Girls Final: Harlequins (4) Defeated Ballarat Touch Association (1) 
Under 14 Boys Final: Geelong Touch (4) Defeated Galaxy South (1) 
Under 14 Girls Final: Harlequin Maroon (2) Defeated Outkast Sports (1) 
Under 16 Girls Final: Moorabbin (2) Defeated Galaxy (1) 
Under 16 Boys Final: Melburners (6) Defeated Ballarat Touch Association (1) 
Under 18 Boys Final: Geelong Touch (4) Defeated Harlequins (2) 
Under 18 Girls Final: Harlequins (4) Defeated Melbourne University Touch Football (2)