Two tries to Jardel Bob and a masterclass from Rebecca Mi Mi led the Indigenous All Stars to a 7-3 win over the Māori All Stars in wet conditions at Commbank Stadium on Saturday afternoon.
After suffering a 12-8 defeat in the 2020 clash, revenge was sweet for the Indigenous side who have now reduced the overall ledger to 2-1 in favour of the Māori All Stars.
The first half was a tight tussle as both teams acclimatised themselves with the wet conditions and torrential rain. Caidyn Wynyard opened the scoring for the match and the Māori All Stars, however first half tries to Cody Green and Jardel Bob had the Indigenous All Stars in the lead. Kiiahla Duff scoring for the Maori All Stars as the half-time siren sounded meaning the teams could not be separated at the break.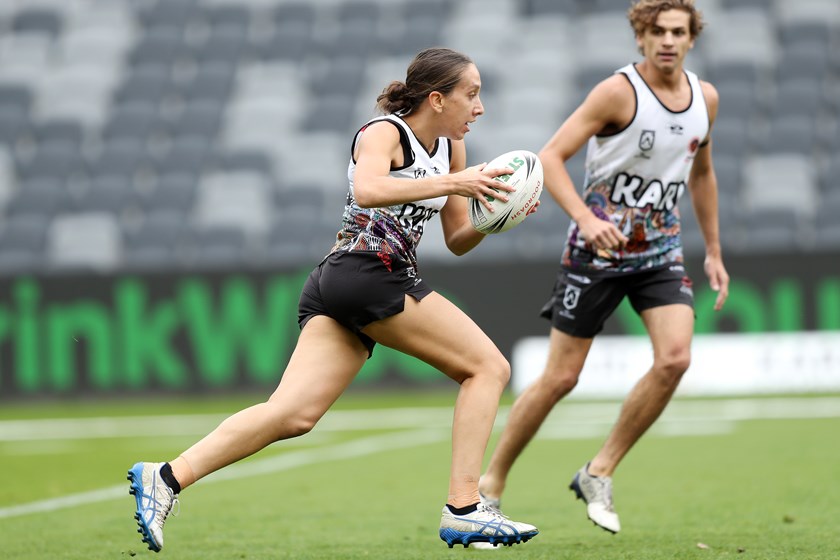 Tactics proved crucial in the second half as conditions deteriorated and it was the greater ball control of the Indigenous side that started to prove problematic for the Māori side.
Rebecca Mi Mi and Jared Rotumah showed their wheels, driving the Indigenous team forward time and time again, while Jardel Bob continued to impress scoring his second for the match.
A full field intercept try from Jordan Marshall-King was spectacular but couldn't arrest the tide with the Indigenous All Stars running home winners 7-3.
Outstanding performances from Jardel Bob and Rebecca Mi Mi saw the duo awarded the Shane Frederiksen and Bo De La Cruz medals for the best players on the ground.
Touch Football returned to the NRL All-Stars arena after a 1-year hiatus caused by the pandemic, with both sides relishing the opportunity to be involved.
Players came into camp on Thursday with both teams participating in cultural sessions which provided an opportunity for players to connect, learn and celebrate their cultures.  
If you missed any of the action a full match replay can be viewed here.
Match Result
Indigenous All Stars 7 defeated Māori All Stars 3
Try Scorers
Indigenous: Jardel BOB 2, Rebecca MI MI 1, Kirralee COSTELLOE 1, Jaymon BOB 1, Jarrad ROTUMAH 1, Cody GREEN 1
Māori: Jordan MARSHALL-KING 1, Caidyn WYNYARD 1, Kiahla DUFF 1
Referees
Kim SKELLY, Tony CALABRIA, Rob BOWEN