Nominations for the Bristol Paint Volunteer of the Year award are still open. To nominate a volunteer to be featured as our Volunteer of the Month from your affiliate click here.
Charlie Williams or CJ as he's more affectionately known, is a true man of the people, a larger-than-life personality not just in physical stature despite his towering 6-foot 5 frame, rather an affable welcoming gentle giant, passionate about bringing the community together through Touch Football.
As one acquaintance put it, if CJ ran for office, you couldn't help but vote for him, such is his likeability and positive influence.
CJ is president of the Eastern Raptors Touch Football club in Melbourne's eastern suburbs. Formally the Outer Eastern Touch Association, the affiliate recently amalgamated with the Eastern Raptors Rugby League club, offering Touch Football in the summer months.
Whilst CJ's title says President, there's little delegation occurring under his stewardship. During the season you can arguably find CJ applying more time to touch footy than his actual job, dedicating countless hours to creating the fixtures and results, recruiting new players, acting as team manager for every team in the competition, organising and educating referees, marking lines and everything else that keeps the competition running.
CJ prides himself of knowing every player by name (like we said a man of the people) and it's this passion and welcoming environment that's seen Eastern Raptors grow from three teams to fifteen teams in the two short years that CJ has been president.
What's even more impressive is that this growth has occurred since 2020, during a pandemic, in the most locked down city in the world.
Thanks to Bristol Paint, we are recognising and celebrating CJ as January's Volunteer of the Month! To learn a little more about CJ and his passion for community, keep reading.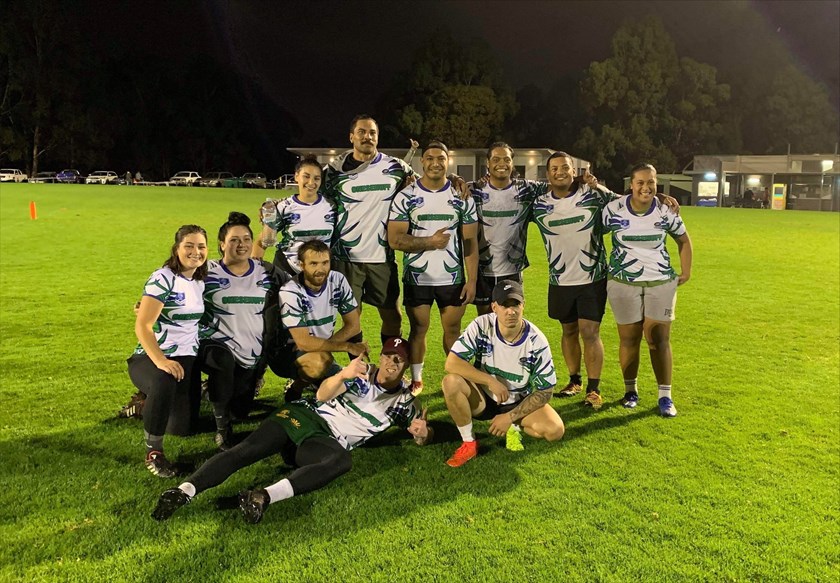 How did you first become involved with Touch Football?
My earliest memories of Touch Football are hanging around the fields in Auckland when I was a kid when Mum was playing in a team. I remember the social atmosphere and sense of community at those games, I guess that's where my passion originated.
However, when I was growing up I was more into Rugby and Basketball so didn't play for a few years but when I moved to Australia as an adult I joined a social team with some work mates and fell in love with the game again, I haven't looked back, in fact I'm now the only member of that group that's still playing and involved all these years later.
Nowadays my wife and young son join me at the fields, so I guess the cycle is continuing.
How long have you been a volunteer, and can you tell us about what you're building at Eastern Raptors?
I took over the presidency in 2020 just as the pandemic started. At that time there were only three mixed teams playing and the Rugby League club was questioning the viability of the competition.
I knew that there were players out there and if we didn't run there'd be no competition in the outer eastern suburbs of Melbourne so I offered to help.
We started by changing the divisions, offering an inaugural men's competition which attracted four teams to go with four mixed teams. A year later we introduced a women's competition, and we had a total of fifteen teams across all divisions. Next year I'm looking to add a junior division as interest is growing and word is getting out.
I believe we've achieved this growth by focusing on creating a family environment. There are not too many other sports where the whole family can play together and we actively encourage this.
I also take the time to get to know everyone and never turn anyone away who wants to play. Last year we had a mum and her kids come out halfway through the season. We didn't have a team for them to join so we rotated them through each team weekly, which all teams were happy to accommodate.
Having beginners join their team often meant games were lost but because of our culture nobody worried about that. It was all about having fun and welcoming them into the club, the result didn't matter.
The other key element to our growth is recruiting and educating referees which I've taken on board as a key responsibility and enjoy taking people on that journey.
What advice do you have for people wanting to try Touch Football?
Do it. I find myself subconsciously recruiting all the time as it's a big part of my life but I always invite people down to watch first and I find once they witness the welcoming and fun environment they're sold and once they try it they're hooked.
What's your favourite Touch Football highlight or memory?
I have two, the first is winning our maiden grand final at the club. We defeated the six times reigning champion, Untouchables in a drop-off. The win was great but it was the progress and improvement we made as a team over the years that was the real achievement. We came from a low skill base and losing by plenty but improved each year and a large part of that growth was learning from the good teams like the Untouchables. As the saying goes, iron sharpens iron and they made us better, which I'm grateful for and made the win sweeter.
The second is witnessing people that are new to the club and sport grow and develop in both skill and confidence. I get to witness that all the time and it's a real reward and highlight of the gig.
What improvements or advancements in the sport have you experienced?
Personally, I am now focusing on my coaching especially juniors, so the coach education framework has been a big help to me.
Touch Football Victoria also have some great programs such as Switch (a female re-engagement program) and Youth in Touch which our club has run and both have assisted in the recruitment of new players.
If you were to win the Bristol Paint Volunteer of the Year award and $15,000 worth of prizes towards a home or club painting makeover - what project comes to mind?
We've recently received state government funding for new clubrooms to accommodate women's rugby league teams, however we also have a set of older clubrooms and a storage shed that, if I won, I'd use the prize to upgrade those areas to align them with the new clubrooms and create a shiny new environment for the community.
Charlie Williams is now eligible to win the Grand Prize of 15k which will be announced in late 2022. The 2021 Bristol Paints Volunteer of the Year will be announced in early 2022.