Nominations for the Bristol Paint Volunteer of the Year award are still open. To nominate a volunteer to be featured as our Volunteer of the Month from your affiliate click here.
Kym Wardrobe wears many hats at Taren Point Touch Association (TPTA). Officially she is the financial controller and uniform coordinator but unofficially she does so much more than that. She can be found in the canteen, out on the grounds, or anywhere she is needed. Often showing up or offering to help without ever being asked. She embodies everything that a club could want in a volunteer and has been instrumental in keeping TPTA going since a devastating loss within the club.
Kym is described by those who know her as an all-round superstar. She cares for TPTA members like they are family and is constantly thinking about new ways to elevate the club, contributing to significant growth in the junior program over the last couple of years. With a heart of gold, she is constantly checking in with everyone and putting others needs ahead of her own.
Thanks to Bristol Paint we are putting Kym first this time to celebrate her as December's Volunteer of the Month! Keep reading to learn a little more about Kym, her 100% success rate at NSW State Cup, and the family culture at TPTA.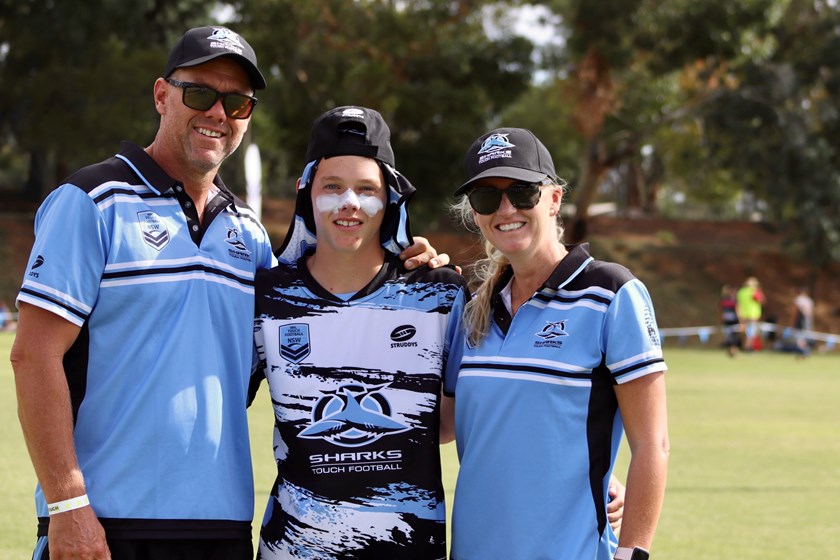 How did you first become involved with Touch Football?
I was introduced to Touch Football at an early age by my father.  I can remember spending lots of time around the touch fields watching my father and brother play.  
Touch has always been a big part of our lives, and now its lovely to watch the kids enjoy the sport as much as we do. It's been a pleasure to watch them grow and develop as Touch players. 
My husband, kids, extended family, and friends all play Touch and whilst I do not play touch myself, I enjoy contributing to the sport that my family love.   
Can you describe the culture at Taren Point Touch?
We are very much a family club at Taren Point. The culture that we try to create is one of inclusiveness and one of giving back. We're a family club and we want everyone to know that their child(ren) join the family when they register to play at our local competition. Whether they have played for 1 year or 10 years they are all treated the same and encouraged to get involved and become part of the touch family. We're seeing significant growth in our junior competition over the last couple of years and I believe that is a direct result of the wonderful family culture that all of our volunteers have created at TPTA.
How long have you been a volunteer in Touch and what keeps you coming back?
I started helping Aileen May, with uniforms for our representative teams about 7 years ago as the club was beginning to see a growth in teams playing Junior State Cup. Since the incredibly sad passing of Ail's I have become a little more involved around the club in other areas to help lighten the load for Corinne and Craig May who have taken over all aspects of running our club. 
I have also helped my son's Junior State Cup team for 7 years as manager and have loved watching the boys grow into fine young men. My favourite memories of touch are watching my husband, daughter and son play for NSW at various tournaments. It fills me with great pride to contribute to their success in the background. 
You're a very active volunteer, what does a normal week look like for you?
I take an active role in the club, but it's not without the help of many others. Whilst our club is yet to formalise a committee structure, I will speak to Corinne and Craig May numerous times a week to see where I can assist. My main contribution to the club is as the uniform coordinator but I also help in a number of areas including - the organisation of the junior park comp, payment of our referees, dual co-ordination of Senior and Junior State Cups, canteen as well as team manager of my son's Junior State Cup representative team.
What advice do you have for someone wanting to get into touch football? 
I can't recommend touch highly enough. Some of my best memories are from Touch Football. It's so easy now to join a team or competition, whether you're doing it with friends/family or by yourself, jump online and you'll find plenty of comps in your local area. The friendships that both myself and my family have made through touch are hands down the best thing about the sport, so we encourage everyone to give it a go!
What is your favourite Touch Football highlight/memory?
My representative career in Touch was very short. Many years ago, I was asked to play Senior State Cup for W30s. Lucky for me this team was extremely successful and filled with tremendous talent and we won the tournament. As it was the one and only time I played I love reminding my son and husband that I have a 100% success rate at NSW State Cup.  
My favourite competition is definitely the Junior State Cup. It is one of my family's favourite weekends of the year. From watching the kids get presented their representative uniforms at our club day, to being in the club tent during the tournament and watching the enjoyment the kids get from playing at a representative level. 
How has covid-19 affected Touch Football in your region?
We are very fortunate at Taren Point Touch to have so many players that love the sport, so as soon as we were able to begin to play again, we had a great return rate in our summer competition and our representative numbers for both Junior State Cup and Senior State Cup this season have been even higher!
8. If you were to win the Bristol Paint Volunteer of the Year award and $15,000 worth of prizes towards a home or club painting makeover - what project comes to mind?
If I was lucky enough to be selected as Bristol Paint Volunteer of the Year, we would use the funds at Taren Point to refurbish our clubhouse and surrounding areas.
Kym Wardrobe is now eligible to win the Grand Prize of 15k which will be announced in early 2022.