TFNT is pleased to announce the reintroduction of two Darwin Touch Referee awards, these awards will be voted on by fellow referees and presented at the end of each season.
Referee of the Season (MVP)
Most Improved Referee
These two prestigious awards are recognition of the hard work and dedication that goes into officiating sport at every level, and we thank all our amazing referee's as without them we don't have this great game we all love!
This season's award winners are:
Referee of the Season
Darwin Touch Season 2 2021
Wayne Lo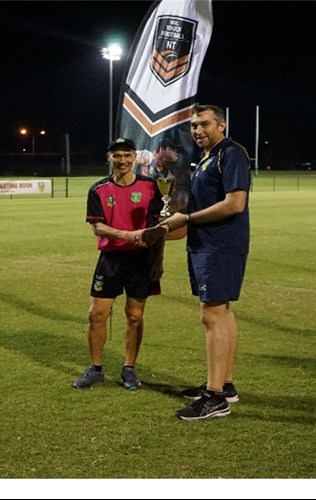 Left Wayne Lo Receiving trophy off Nathan McDonald (NT Touch state manager)
This award is testament to the dedication Wayne has show to refereeing across the past three seasons. Wayne has not only improved his officiating, but taken on a mentor role of our younger referees and is always willing to assist with extra games when required.
Most Improved Referee of the Season
Isaac Lane & Jordan McDonald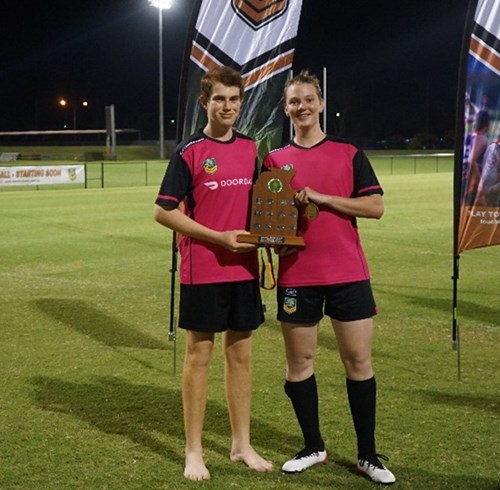 Left Jordan McDonald Right Isaac Lane
These two young men have show outstanding dedication and willingness to take on coaching and mentor to improve their officiating, culminating in both referees assisting with refereeing the Hot 100 Mixed Division 1 S2 2021 Grand Final.
Farewell JT
TFNT is also saying a farewell to one of our favourite fulltime referees in Darwin, Jason Taylor (JT) is moving interstate due to work and will be sorely missed. JT has been one of our most consistent referees running 2 or 3 games a night and coaching fellow referees in his spare time. He has also officiated at NTL's and Defence Nationals numerous times and TFNT is very proud of his achievements and wish him the best in his new adventures down south.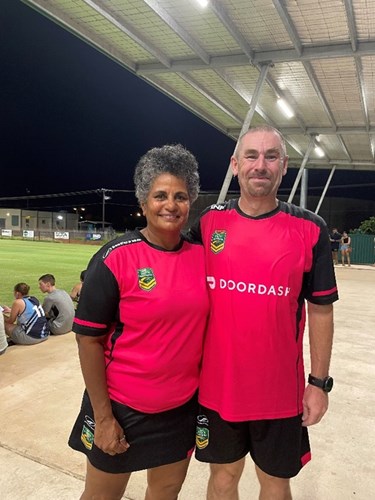 Left Jenny Roe (Snr Level 6) Right Jason Taylor (Snr Level 6)
CALLING NEW REFEREES
As our Darwin Touch competition continues to grow that means our Referee team needs to as well!
TFNT will be running two FREE Level 1 referee courses on the 31st Jan & 2nd Feb 2022 at 6pm. This will give you the basic understanding & knowledge of the game then maybe next season you could be the next Wayne Lo, Isaac Lane or Jordan McDonald.
If you would like to take part in one of the courses, please contact brodie.morcom@touchfootball.com.au for more information or to register your interest.