Nominations for the Bristol Paint Volunteer of the Year award are still open. To nominate a volunteer to be featured as our Volunteer of the Month from your affiliate click here.
Karley Broderick gives 100% to the Ipswich Touch family. If she had anymore to give, she'd give that too. Karley attends every single games night, training clinic, fundraiser, and executive meeting. She does so without question, without need for recognition, and all for the love of the sport. Karley has dedicated her time and energy to touch for over 10 years as a volunteer, but her love for the sport started in her early teens as a player.
The association has become a second home for Karley and her family who all excel within the sport. Both children, husband, and extended family all represent Ipswich Falcons and South West Queensland. Even when Karley suffered a serious injury that sidelined her for some time, she used that time to start organising committees, canteens, cleaning, coaching, coordinating uniforms, and countless other thankless tasks.
Her kind and sincere nature contributes to the growth of the club. Every member is welcomed like family, and she ensures that everyone is happy and enjoying the sport that she loves. Her endless and ongoing contributions to the club could never be summarised in one article but suffice to say that the Ipswich Falcons would not be the same without her.  
Thanks to Bristol Paint we are able to recognise and celebrate Karley as November's Volunteer of the Month! To learn a little more about Karley, her favourite touch moment (hint: there's more than one), and an inspiring little kid called Memphis, keep reading.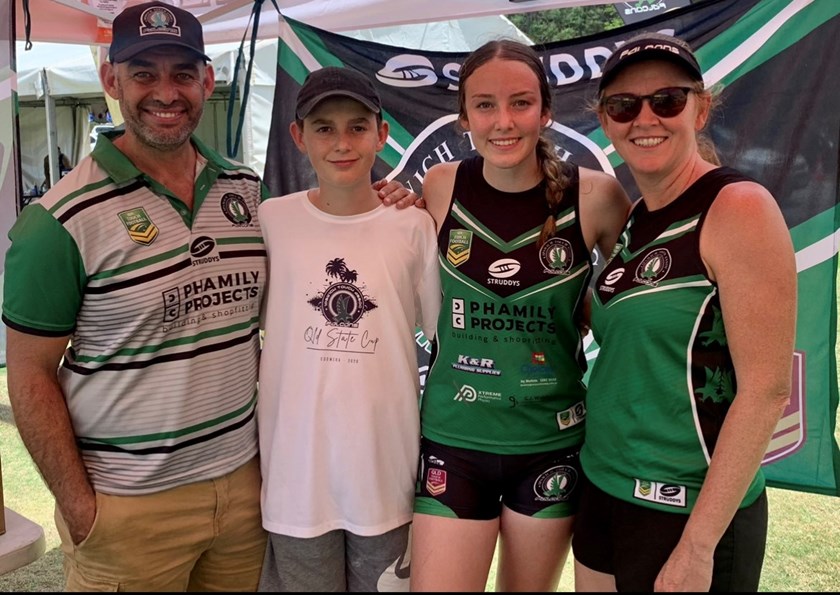 How did you first become involved with Touch Football?
I started playing touch in my early teens here in Ipswich. I spent some time in Blackwater where my family was heavily involved in touch and I was a volunteer, before moving back to Ipswich in 2015. Since then, we have lived and breathed Ipswich Touch. My family; husband, children, and extended family all play touch and represent the Ipswich Falcons and South West Queensland.
How long have you been a volunteer in Touch and what keeps you coming back?
It's been over 10 years now, firstly in Blackwater and now in Ipswich. Touch football has been such a big part of my family's life, that I want to see it continue to grow. I also love being a part of something our whole family can play and enjoy together. 
We have a very small group of volunteers at Ipswich Touch, that put in a great deal of effort. We try to always go the extra mile to provide a close-knit family atmosphere and you really get that sense when you come down to the fields.
What advice do you have for someone wanting to get into touch football?
Do it! Sport provides you with so much more than physical activity. I love playing touch, being involved and it has provided me with lifelong friendships. I can't recommend it enough!
What qualities do you think makes a great volunteer?
It takes someone special who is willing to give something so important, their time. But the reward of seeing people get so much enjoyment out of your hard work is absolutely worth it.
What improvements and/or advancements in the sport have you experienced?
I have attended Junior State Cup (JSC) for many years and has always been a highlight of our family's calendar so it's great to see it grow and expand. Though it's also great to see the Senior State Cup being played in the last few years and seeing the talent continue to develop.
What is your favourite Touch Football highlight/memory?
There are so many I can't choose just one. I absolutely love watching my kids play and enjoy a sport that I also love. But here are three of the best memories I have:
Years ago, my husband coached a Blackwater u16 team at JSC, except we had a mix of 12-15 year olds playing just to get a team. They got flogged every game, but the heart that these kids played with won the hearts of all the locals at the local watering hole, that these strangers came out to watch one of their games and cheered our boys on and applauded their efforts. 
This year watching a team my son was playing in (7 of the 13 players were u14) go from D grade last season to make it to the A grade grand final this season. 
This year, I managed our u14 boys rep team. We had a boy, Memphis in our team. Memphis was born with club feet and has had so many operations in his life and spent a lot of time in hospital, even having to learn to walk again on a few occasions. I didn't know any of this until about halfway through the season. He would often play full games, be in pain and not say a word about it because he just loved being a part of it all. The strength and determination this kid showed just blows my mind, an absolute little champion. 
How has covid-19 affected Touch Football in your region?
Covid-19 did affect our numbers a lot, but I think this was across the board with all sports. We are still working on building our senior numbers back up, but our junior comp exploded this season. I'd like to make special mention to my sister, Jodie who was the main driver responsible for this. We were faced with many obstacles beyond our control this season, but our team numbers were nearly at capacity. 
If you were to win the Bristol Paint Volunteer of the Year award and $15,000 worth of prizes towards a home or club renovation – what projects come to mind?
If I were to win the Bristol Paint Volunteer of the Year, I'd love to spend it on fixing upstairs at our clubhouse. We have the area, we just need work done on it to make it a more useable space for further development of our kids and committee.