In partnership with key stakeholders Touch Football Australia (TFA) is pleased to launch the 2021 to 2024 Strategic Plan. Our new plan provides a clearer, and more concise direction for the sport across the country.
Our vision is a simple one; enhance the experience and grow the sport and these decision making filters drive everything we do. Like any structure, it starts with a strong foundation. Our sport and our community come together at the field.
Foundation
These foundations will facilitate and enable growth;
Innovation drives business efficiencies
Enhance integration with NRL, from boardroom to grassroots
Commercial partnerships drive investment
Sound, ethical business practices lead decision-making
Best-practice governance leads our sport and is industry renowned
Achieve diverse national and state boards, with 40% of positions held by females.
Our strategy is focused on four key pillars; people, participation, profile and performance. These pillars represent the key elements of our game, with each one supporting the success of the other.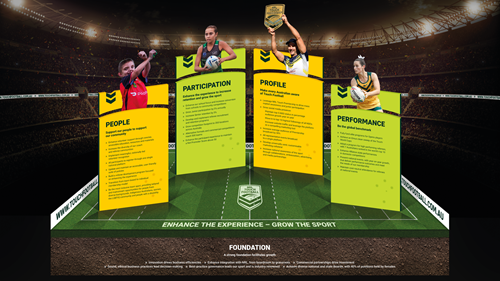 Click image to view the foundation and our four pillars. 
People
We start our journey towards success, with the lifeblood of our sport - our people. We will support our people to support our community.
Participation
Participation is central to our strategy, we will enhance the experience, increase retention and grow the sport.
Profile
You can't be what you can't see, through our increased profile we will make every Australian aware of Touch Football.
Performance
We will be the global benchmark for Touch Football. 
Together we will enhance the experience, and we will grow the sport. We will do this through a strong foundation that supports our people, participation, profile and performance.