// SUPPORT
Q: Where do I find help in MySideline? 
If the video tutorials and WalkMe pop-up guidance in MySideline are not helping with an issue you are encountering, submit a support ticket via the support bot in the bottom right-hand corner of the MySideline administration system (or by going here) and a member of the support team will get back to you as soon as possible. 

The support process is also available for your participants within the registration process. 
Q: Why do I need an NRL Account? 
To ensure all members are verified, an authenticator is required. This was previously done through previous provider, as they were the account verifier. With the change of Competition Management and Registration platforms, a new authoriser was required, and that new authoriser is the NRL Account. You may have had an account previously if you have logged into NRL.com, the NRL App, Fantasy or Tipping. This single account sign-in for participants across both sports comes with benefits, including a greater ability for cross-promotion between Rugby League and Touch Football at different times of the year (e.g., encouraging more League players to play Touch in summer). 
// REGISTRATION
Q: Why are the players registering as a coach?
If your players are registering as a coach, there is a chance that one of the below is occurring. If that is the case, you can de-register the player and request that they register again:
Date of Birth does not suit the age group:

"All Ages" will allow all ages 4+ to register. A specific age group will allow that age and the age below to register e.g. "Under 15s" will let those turning 14 and 15 that year to register. "Seniors" will allow those over 19 to register, "Masters" will allow over 35s to register.

The gender does not match the gender set on the competition offering. E.g. Male registering to a female competition.
The player is already registered to the team; you can only register to the team once. If you have a team moving from season to season; ensure that you create new teams or get the teams to register new instead of moving teams from one competition to another to avoid this issue.
// REPORTS
Q: How do I get reports on who has paid out of the system:
The "Registration Payment Detail Report" will provide the details of each players registration and their financial status.
The "Team Registration Report" will include the payment details of each team.
The "Disbursement Report" will show the details of each team and player bundled together in each transfer total.
Q: What can I expect in each report
Click here to see the details of the fields that you can export on these reports.
Q: How do I print out team lists and competition information such as teams in each competition?
The squad report can be used to print the players assigned to each team and which competition that they are in.
The team sheets report (TFA Sign-on/Scorecard) can also be printed to print out the players' names and the 2 teams playing each other that evening.
//FEES
When I'm setting up my association's bank account, what's this KYC thing? 
The KYC stands for 'Know Your Customer' and is needed for the payment provider to comply with AUSTRAC Know Your Customer and Anti-Money Laundering regulations. It is only used to verify the identity of a controller of the club. The details provided are not stored. Here is useful info on why you may be asked to provide ID: Find more detailed information here. 

Q: How do I accept Government Vouchers?
NSW Active Kids: The integration is setup so that when a fee is allocated to the player registration and you have a POSID attached to your association the option will be displayed. If you need to confirm that this is setup for you, please contact your state contact or support.
All other government vouchers: Provide non-compulsory payments for these players so that they can register, and you can manually mark them as paid. Currently there is no connection for the government vouchers to connect to the system, this is dependent on each state arranging for an API which is currently only available in NSW.
Q: What is the transaction fee in MySideline?
The transaction fee absorbed by the payment provider is a low 1.4% + 40c per transaction. To see your transactions deposited to your bank account, run the Disbursement Report found in your Financial Reports. You will be able to match payments by player and/or team name and group by date transferred.
// COMPETITION MANAGEMENT
Q: Please advise what the age groups settings mean?
"All ages" will allow all ages 4+ to register.
A specific age group will allow that age and the age below to register e.g. "Under 15s" will let those turning 14 and 15 that year to register. "Seniors" will allow those over 19 to register, "Masters" will allow over 35s to register.
Communicator Target Group Setup: The age group selected will include all members for just that age group based on DOB not team/competition registration e.g. Under 15s all those that will turn 15 in the current year.
The team and competition age group need to match for the team to show in team allocation section within the competition.
Q: The Ladder isn't doing what I expected:
To ensure that the ladder is pulling the correct information ensure the below is setup correctly:
Ladder settings in the competition are set.
All games are marked as final once completed and scores entered.
The website ladder will update every hour automatically, but the admin can refresh with an "update" for it to show within 10 minutes on the competition website.
If you need to add or remove points you can do so in the admin ladder per competition
Currently if a team forfeits, they are assigned 1 point as a loss; if this isn't what you'd like please manually adjust the ladder.
Q: Is there a way to quickly assign all players to the games, try's and where is it displayed?
To assign players to a match in bulk the "Add Previous Team" button will assign those that were assigned the week before and can then be updated with those that are different from the week before.
Each try is assigned individually so that a time can be allocated to the try for games where live scoring will occur.
Players try's and attendance is displayed in each match, if "team lists are ticked to display = yes". Click on the match you'd like to see and you'll be able to see the try's and the players.
If a player's name is showing as "Not Available" that member has marked their profile as private. They can update this in their profile. The administrator will then need to remove them from the squad and re add them to refresh the change for future matches.
Q: Where will I and others see fixtures and results for my competition?
Once a competition is running, participants will be able to find fixtures and results at www.touchfootball.com.au/competitions. 
Q: How do I hide or show competitions on the touchfootball.com.au website?
The display settings are in each competition. As you are ready for a competition to display on the website, change the display to 'yes'. You can use 'hide rounds' in the competition set-up to hide the draw but show the competition when you are ready to load the competition but not ready to show the whole draw yet.  
Inactive or "Display = no" competitions will be removed from the website within 2 hours of the display settings being updated.  
Q: How long after I turn the display settings to 'yes' do the competitions display on the website?
It will take 2 hours from the time the competition settings were changed. 
Q: How long do changes to the competition matches take to show online?
Results, player statistics and fixture changes will take 5 minutes; the ladder will update within 10 minutes if the ladder is manually refreshed, or automatically every hour if not manually refreshed. 
Q: Why aren't my scores showing on the website?
When you enter the scores in the Matches Scores, ensure that you are marking them as 'final' so that the ladder and results update with these scores.  
If a player's name is showing as "Not Available" that member has marked their profile as private. They can update this in their profile. The administrator will then need to remove them from the squad and re add them to refresh the change for future matches.
Q: What does the term 'publish' mean when making draws?
Publish "accepts" the draw that you have created. To make edits, you can do so in the 'Matches' section.
Q: How do people register to my competition? 
Step 1 – Go to www.touchfootball.com.au   
Step 2 – Search for the association or competition you or your team wishes to register for in the finder.

OR if you are registering for a team, search your team name or postcode by clicking into "Register to a Team" or follow the link your team manager has emailed you.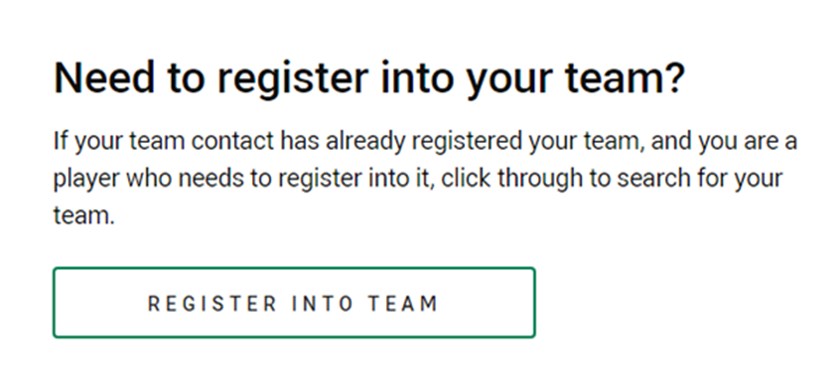 As part of the registration process you will be prompted to login to your NRL Account. (If you do not have an existing NRL Account you will not be sent a password reset link, however, you will be able to create one during the registration process).
Step 3 – Login to your NRL Account and select the participant you wish to register or click 'Add New Participant'. 
Once logged into your account, any participant that had registered previously with that email will already be linked to your account and ready for registration. 
Step 4 – Complete the registration form, ensuring the 'Type of Registration' field is correct as per the experience you are registering to (i.e. If you are registering so that you can play Touch Football, ensure this field says 'Player Touch'. If you are registering as a Coach, ensure this field says 'Coach' etc.). 
Q: How do I create a direct link to a team to assist team managers? 
Use this link: https://profile.mysideline.com.au/register/clubsearch?criteria=INSERTTEAMCODEHERE&entity=true&source=touch-football
Replace the words "INSERTTEAMCODEHERE" with the team code (located next to the team name on the teams table) and copy and paste into the internet browser to ensure that the correct team is showing. 
Q: How do I close team registration but leave my players registration to the teams open?
To close team registrations but keep the player registration open set the competition that you are no longer taking registrations for to the max number of teams in the competition. More information on registration fees.
Max number of teams can be found in the competition setup:

// Manager:
How can a Team Manager see who has registered to their team?  

To add your managers so that they can see who has registered to their team:
Navigate to the User Management page in MySideline Admin
Enter the managers email address that they registered the team with;+Add permission; Choose Team Admin from the drop down option; Add to team name.

If the email address is not found, ask the manager to follow the below steps to activate their email address.
Step 1: Visit admin.mysideline.com.au and click Login with NRL Account.
Step 2:  Login using your NRL Account or click Sign Up to create an account.
Step 3: Once you have created an NRL account, ask your Association administrator to add you as an admin to your Team.
Step 4: Once you have access, please visit manager.mysideline.com.au to access each feature.
Step 5: Using the hamburger menu on the top left of your screen. Scroll down the menu to find the option for
My Members. This feature will show registered members and their details.
Q: Can I see the player ID photos:
When the team function for scoring is available in manager you will be able to see player cards to achieve this if it is a desired outcome.
 // How do I get support?
Contact your state office or come through to MySideline support here.
If we didn't answer your question – please let us know through support so that we can update the FAQs for you and others.